Please click top right button for detailed information, photo story.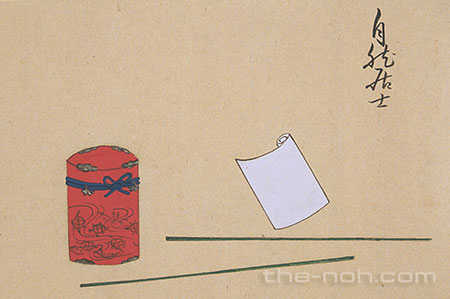 Photo from National Noh Theatre


A young preacher, Jinen-Koji, has been preaching the Buddha's Law for seven days, gathering people at Ungo-ji (Unko-ji) Temple in Kyoto. On the last day of his sermon, an orphaned girl (or sometimes, an orphaned boy), appears, holding a beautiful kimono in her hands. The girl (boy) offers the kimono to the Buddha and asks Jinen-Koji to console the souls of her (his) deceased parents. Hearing such a heartfelt request, Jinen-Koji and his audience shed tears.
However, the girl (boy) obtained the kimono by selling herself (himself) to human traffickers from an eastern province. The girl (boy) is therefore caught and taken away by the human traffickers who have been chasing her (him). Learning of these events, Jinen-Koji runs after them to rescue the girl (boy) and catches up to them on the shore of Lake Biwa, when they are just about to leave by boat. Jinen-Koji stops the boat, embarks, and expresses his determination to go with the group unless the human traffickers free the girl (boy). Although the human traffickers threaten to kill him if he stays on the boat, Jinen-Koji is undaunted and stays on board.
Since Jinen-Koji is in the service of the Buddha's Law, the human traffickers cannot employ brute force against him. Accordingly, they reluctantly agree to free the girl (boy). To vent their frustration, the human traffickers try to humiliate Jinen-Koji by making him dance in return for releasing the girl (boy). Although Jinen-Koji is aware of the human traffickers' intentions, he accepts their request and unreservedly performs various dances. He finally achieves the freedom of the girl (boy) and returns to Kyoto with her (him).


The scene where Jinen-Koji starts preaching on a dais. The scene describing the tenderness of the girl (boy) requesting a memorial service for her (his) deceased parents. The scene where the human traffickers forcibly take the girl (boy) away. The scene where Jinen-Koji lays his life on the line and argues with the human traffickers. And the scene where Jinen-Koji performs one dance after another in order to satisfy the demands of the human traffickers. The frequent scene changes in this Noh piece provide a series of very entertaining highlights, distinguishing this piece from others.
The lead character, Jinen-Koji, is shown as a man who does not hesitate to sacrifice himself in order to save others, and his trustworthy personality is clearly depicted throughout the scenes.
After enjoying dialogues, songs, and dances, you will feel exhilarated by the assurance that justice does prevail in the end. While basking in the warmth of love and compassion consistently presented in the drama, you will lose yourself in the story and enjoy it from the bottom of your heart.
---
STORY PAPER : Jinen-Koji

| Terms of Use | Contact Us | Link to us |
Copyright© 2021 the-NOH.com All right reserved.