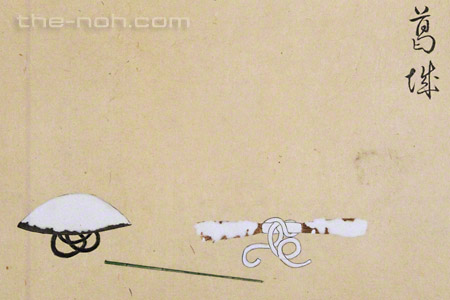 One winter night, a party of mountain priests, *yamabushi, originally from Mount Haguro in Dewa Province (present-day Yamagata Prefecture) comes to Mount Kazuraki in Yamato Province (present-day Nara Prefecture). The party encounters difficulties during a snow storm on the mountain and takes shelter under a tree. A woman living nearby passes by. As she feels sorry for those who do not know what to do, she offers them accommodations for the night in her small house and leads them to the house.
In her house, she makes a fire with the firewood called "shimoto" to welcome the mountain priests. Citing an old poem, she describes a story related to Mount Kazuraki and "shimoto" firewood. While they talk, the night advances and the mountain priests decide to start a devotional exercise to be carried out late at night. The woman then asks them to pray to remove her sufferings. The mountain priests who realize that her sufferings are not those of a human being call for an explanation. She reveals that she is the deity of Kazuraki and is in anguish because she was bound by vines by the mystic power of En no Gyōja (Great Mountain Priest En). She explains that it happened because she was once requested by En no Gyōja to build a stone bridge for mountain priests in training but that she was not able to complete it.
When the party of mountain priests offers prayers to console the spirit of the deity of Kazuraki, the deity in her female body appears bound with vines. The deity of Kazuraki requests them to single-mindedly pray for her and dances yamato-mai. She enters the room covered by a stone door before the sunrise as she is ashamed of allowing her ugly face to be seen in the light of day.
*Yamabushi: A man who devotes himself to the ascetic training of Shugendō. Shugendō is a religious belief derived from Buddhism and Shintoism whose aim is to acquire supernatural powers through strenuous ascetic training in particular mountains in order to relieve all living creatures of their sufferings.


This piece describes the mystical world of Mount Kazuraki enclosed in deep snow in winter. When the mountain priests enter the mountain, all the world is covered in silver. Other than a few props to give audience the impression of snow, there is almost nothing on the stage for stage effects. Quiet movements of performers and the calm and smooth vocalism mainly chanted in yowagin (a melodic singing style) re-create the transience of the snowy world before the audience.
The story itself is based on an old legend of Mount Kazuraki, which invokes a mystic feeling and poetical imagination.
In the moonlight, a deity in her female body dances in white shining snow. You will enjoy a mythical scene existing beyond this world.
---
STORY PAPER : Kazuraki

[Kazuraki : Story Paper PDF : 452KB
]