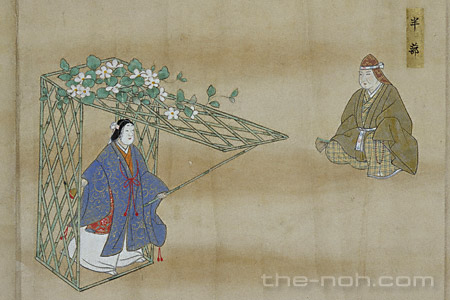 Near the end of the period of summer ascetic training, called Ango or Geango (cloistering himself for seated meditation for ninety days), a Buddhist monk living in Unrin-in Temple in Kitayama, Kyoto, prays to console the spirits of flowers offered to Buddha every day. At dusk a woman appears and offers a white flower. When the monk asks the name of the exceptionally beautiful flower, the woman answers that it is a moonflower. Pressing on, he asks the woman's name, she says that her identity will soon be revealed even she does not give her name. Further, the woman says she came from the shadow of this flower and lives somewhere near Gojō in Kyoto. Leaving these words, she disappears in the moonflower.
After listening to the tale of the love affair between Hikaru Genji and Lady Yūgao (Moonflower) from a villager, the monk visits the Gojō area, following the woman's story. When the monk visits this place, there is a lonely-looking house just as in the past, with hinged half wall grilles entangled with blooming moonflowers. When the monk tries to console Lady Yūgao's soul, the one who appears by opening up the hinged half wall grille is the ghost of Lady Yūgao. She narrates the memory of her love for Hikaru Genji and dances. Lady Yūgao repeatedly begs the monk to console her soul and returns inside the hinged half wall grille before the break of day. It was all a dream the monk had. Everything happens in the monk's dream.


Lady Yūgao is one of the lovers of Hikaru Genji. Despite not knowing her status, he was passionately attracted by and loved the pretty woman like the moonflower, who accidentally caught his notice in Gojō. However, after the transient happiness, Lady Yūgao was possessed and killed by a specter at a house the couple visited. With her death, the short love affair ended.
This piece is based on the love story of Genji and Lady Yūgao; however, it overlaps the beauty of the moonflower with the image of Lady Yūgao, who ended her fragile life, and recreates Lady Yūgao who is as beautiful as a nymph of a flower, rather than performing the original story itself. This is a soft, exquisite drama, all of which takes place in the monk's dream.
---
STORY PAPER : Hashitomi / Hajitomi

[Hashitomi / Hajitomi : Story Paper PDF : 494KB
]