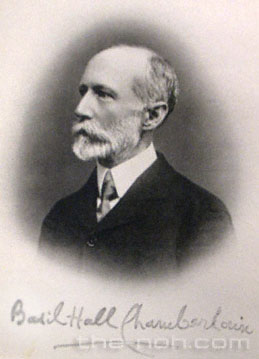 ©Aichi University of Education
Arriving in Japan in 1873 and Later Working as a "Hired Foreigner"
The Englishman Basil Hall Chamberlain lived in Japan from the Meiji era, studying the Japanese culture and language and becoming quite accomplished. He is known for his academic contributions to the development of Japanese studies and linguistics, and for introducing Japanese culture and literature abroad. He also was involved in pioneering research into the Ainu and Ryukyu cultures of Japan. In focusing on the similarities between classical Greek drama and the literary qualities of Noh, he became an established figure in the history of Nohgaku, introducing Noh chants to foreign cultures from a literary perspective.
Chamberlain was born in 1850 (Kan'ei 3) in the outskirts of the English port city of Portsmouth. Born into an old Scottish family, his father was a rear admiral in the English Navy. His mother died when he was young, and he was raised by his grandmother in France. After many years working at Bearings Bank, he became ill and set out to sea as part of his treatment. His travels eventually led him to the port of Yokohama in 1873 (Meiji 6).
After arriving in Japan Chamberlain earned a job as a "hired foreigner," a collective term for foreign workers hired to assist in the modernization of Japan. He taught English from 1874 (Meji 7) to 1882 (Meiji 15) at the Japanese Naval Academy (today's The University of Tokyo), after which in 1886 (Meiji 19) he became a professor at Tokyo Imperial University, where he taught Japanese studies and linguistics. His students included Kazutoshi Ueda, a scholar of Japanese; Yoshisaburo Okakura, the brother of Tenshin Okakura, a famous art historian and art critic, and scholar of English; and Nobutsuna Sasaki, Japanese waka poet and scholar of Japanese literature, all of whom he helped develop into literary greats.
During his long career, he focused on Japanese culture and his passionate studies and translation. His most famous works included The Classical Poetry of the Japanese (1880), which detailed Japanese waka, Noh chants and kyōgen; A Translation of the Ko-Ji-Ki (1883); and Things Japanese (1890), an overview of Japanese culture and pastimes.
Studying the Samurai, Noh and Waka from a Supporting Poet of Atsuhime
Chamberlain's interest in Noh was influenced by a meeting with a certain individual. Chamberlain was invited by a monk of Seiryuji, the temple in which he lived in Shiba, Tokyo to become the English tutor of Shigeru Araki, a former samurai of the Hamamatsu domain who lived nearby. Shigeru Araki was a man of insight and learning, and in addition to learning English, he taught Chamberlain about some of the finer examples of Japanese culture, including the Kokin Wakashū and Noh.
Chamberlain was both extremely inquisitive and a true linguistic genius. He often accompanied Shigeru Araki to Noh performances, where he learned about the world of Noh chants and waka, and eventually made use of his talents to write his own waka. Chamberlain was enchanted not only by the world of Noh chants, but also by the waka that enriched it. Araki introduced him to the female poet Toseko Tachibana, with whom he was able to further his study of waka. Tachibana was a famous waka poet who served the Tokugawa shogunate, made her living from the Tachibana clan and herself supported Tenshoin Atsuhime and taught waka. While learning the most refined Japanese from Tachibana, Chamberlain continued his own studies of waka and Noh.
Studying the Man'yōshū, Kokin Wakashū and Noh Chants
The result of Chamberlain's studies of Noh and waka, the formerly mentioned The Classical Poetry of the Japanese, was published in London. In the book Chamberlain describes important Japanese poetic works such as the Man'yōshū and Kokin Wakashū and their influence on the chants of Noh while presenting selected translated passages from each work. The book includes translations from the Noh plays Hagoromo, Sesshōseki, Kantan and Nakamitsu, as well as the kyōgen plays Honekawa and Zazen. In his works Chamberlain highly praised Noh as an art form that served to communicate the vitality of traditional Japanese lyrical poetry in the present day. While many of his translations may now be viewed as insufficient as Chamberlain was working from incomplete original manuscripts, his success in introducing Noh as a refined literary form in a time when Japan had just reopened exchange with the West is indeed laudable. In his later work, Things Japanese, while pointing out the similarities between Noh and classical Greek drama, Chamberlain also presented the unique qualities of Noh in a way Westerners could easily understand. Many editions of Things Japanese were published through 1936, being read by many.